The Science of Reading
The Science of Reading is gaining momentum, thanks in large part to folks like APM journalist Emily Hanford.  The funny thing is, it's not a new concept;  knowledge about the Science of Reading has been around for upwards of five decades.  According to The Science of Reading, A Defining Movement, "The Science of Reading is a vast, interdisciplinary body of scientifically-based* research about reading and issues related to reading and writing.  This research has been conducted over the last five decades across the world, and it is derived from thousands of studies conducted in multiple languages. The science of reading has culminated in a preponderance of evidence to inform how proficient reading and writing develop; why some have difficulty; and how we can most effectively assess and teach and, therefore, improve student outcomes through prevention of and intervention for reading difficulties."
When I talk about the Science of Reading (and I talk about it a LOT!), I get nervous that other educators hear the phrase and think that it's just another buzz word/phrase in education.  They may think, "It too, shall pass."  I also get nervous that it will be misinterpreted and misused; Mark Seidenberg recently expressed the same concern in a new weekly Zoom meeting series, titled Reading Meetings with Mark and Molly, Conversations Bridging Science and Practice:  next episode is March 28 at 3:00 p.m. CST!  The Science of Reading is NOT just another buzz word/phrase.  As stated above, it is scientifically based research, and it has been around for decades.  It is both a mystery and a tragedy that there continues to be misalignment between the science and the approach to teaching reading in schools.  But, a movement is happening, supported by groups like The Right To Read Project, momentum is picking up… change is a comin'!
The Simple View of Reading
When trying to gain an understanding of the Science of Reading, a great starting point is the Simple View of Reading, a formula created by Philip B. Gough and William E. Tunmer in 1986, as this Reading Rockets article explains in further detail.  The simple view is just what it states:  a simple look at how skilled reading works.  It is at the heart of the Science of Reading.  The following graphics demonstrate Gough and Tunmer's Simple View:
The second graphic's inclusion of simple math formulas show us that without Word Recognition (Decoding) or Language Comprehension in place, our students do not reach Reading Comprehension, our ultimate goal.   Further, if we approach reading instruction by "sprinkling in" a bit of Decoding Instruction (0.50) or a bit of Language Comprehension (0.50), our students still do not reach Reading Comprehension.  It is imperative that school systems implement a robust reading curriculum that has both elements of reading instruction in place.
The Simple View of Reading is slightly misleading in its simplicity, as learning to read is anything but simple.  The Simple View does provide the basic structure of the process.  Digging deeper into the process brings us to the work of Hollis Scarborough.
Scarborough's Rope
If the Simple View is the structure of reading acquisition, Scarborough's Reading Rope is the framework for how the process of learning to read works.
As the infographic shows, the upper and lower strands of the reading rope work together.  On the upper strand, the Language-Comprehension strands (background knowledge, vocabulary, language structures, verbal reasoning, and literacy knowledge) work together to bolster overall language comprehension.  The lower strand demonstrates how the Word Recognition strands (phonological awareness, decoding, and sight recognition) work together to bolster overall word recognition.  As learners progress through reading acquisition with the support of explicit instruction targeted toward all strands, they strengthen each strand which overlap and work together to produce skilled reading.
Curriculum Matters
As school districts align the science of reading with instructional materials, their adoption process will lead them to materials that encompass instruction aimed at both Word Recognition and Language Comprehension.  As I've written before, I'm so fortunate to work in Fort Madison Community School District, where such a curriculum has been adopted and is in the second-ish year of implementation.
The EL Education Language Arts curriculum thoroughly addresses all strands of skilled reading in their K-8 language arts curriculum.  In all grade levels, K-8, students are immersed in content-based literacy experiences, which address the Language Comprehension side of Scarborough's Reading Rope.  These experiences are organized in four modules across the entire school year, organized into three units per module, where students take deep dives into a topic for eight to nine weeks.  Students in grades 3-5 receive an additional hour of targeted small group instruction during the ALL (Additional Literacy and Language) Block, which further addresses the Language Comprehension strands of Scarborough's Reading Rope.  From EL Education's book, Your Curriculum Companion, "Each unit contributes to the story of the module by focusing instruction around the specific literacy skills necessary to holistically study the module topic."  The advantage of a district adopting a viable curriculum such as EL Education (among many other advantages) is that students experience pieces of a puzzle across nine years that come together to form a perfect knowledge-building experience.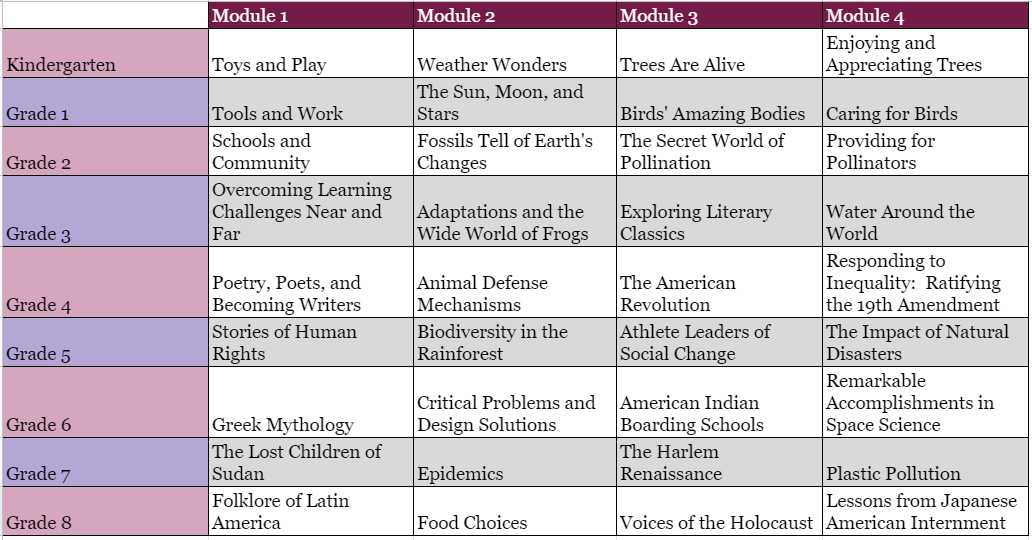 In addition to these content-based literacy experiences, students in grades K-2 receive the systematic and explicit phonics instruction that must be in place to address the Word Recognition strands of Scarborough's Reading Rope.  This systematic and explicit phonics instruction takes place during the Reading Foundations Skills Block, which accounts for one hour of instruction per day.  During the Foundational Skills Block, students receive on-grade level instruction specific to their grade level microphase, as well as instruction specific to each student's microphase, which may not be on grade level.  Microphases are grounded in the work of Dr. Linnea Ehri who developed Phase Theory, based on four phases of the alphabetic principle (Pre-Alphabetic, Partial-Alphabetic, Full Alphabetic, and Consolidated Alphabetic).  EL has further broken down each phase into microphases (early, full, and late).
Science of Love
That was some pretty heavy content; let's lighten things up a bit!  If we want to tackle the Science of Reading in our instruction, we must first ensure that we have the "Science of Love" (my made-up phrase) in place.  We know that we will have a much smaller impact on student learning if we don't first reach their heart.
When it comes to education, relationships first.  Much brain research has been conducted around the science of learning, and much of it has to do with how we make students feel.  Eric Jensen reminds us that emotions are key to memory, meaning, and attention.  Tina Boogren, consultant for Solution Tree, reminds us about the importance of bringing enthusiasm and intensity to our daily work as educators.  Boogren tells us that the word "enthusiasm" can sound exhausting, if you think of it as being a cheerleader day in and day out.  However, when you frame it around ensuring three things for your students, you have landed on its intention:
 Students know that you love your job.
 Students know that you love them.
 Students know that there is no place in the world you'd rather be.  (ish!)
My Aunt, Sister Kathleen Hanley
Speaking of the science of love, it is with a heavy heart that I share a remembrance of my dear aunt, who we lost unexpectedly on Friday, March 26.  Kathleen was born in 1942 in Lewistown, Montana, the oldest of 11 children born to Red and Selma Hanley.  Kathleen left Lewistown after high school to join the convent at Ottumwa Heights in Ottumwa, Iowa.  She taught in Waterloo, Iowa, ministered in Davenport, Iowa, Lewistown and Billings, Montana, where she spent the last 20 years.  Kathleen was a talented musician, teacher, and caregiver.  Above all, Kathleen was the definition of love.  She bestowed love upon all that knew her.  To be in Kathleen's presence was to be at peace.  Kathleen was a beloved daughter, sister, friend, and loving aunt to 23 nieces and nephews, as well as 30 great nieces and nephews.  In a December 30, 2020 email to her family, Kathleen proudly announced that she had received her first Covid vaccine and was able to return to her volunteer position in the St. Vincent Health Care center neonatal intensive care unit in Billings.  In a December 31, 2020 email, she wrote, "This afternoon I joined a drum group at St. Andrew Presbyterian Church.  Eight women.  Masked and distanced we drummed for an hour.   You and yours were present with me.  As we move into 2021 I continue carrying each of you in my heart."
A few years ago, I asked Kathleen to help me understand how to manage my frustrations with a friend who was so deeply rooted in her Christianity that she had no tolerance for people of other belief systems.  Kathleen said, "No matter the religion, the root of how we operate should be focused on love."  She explained that when she thinks about differing belief systems, she always thinks of a pie, with LOVE at the center.  Pieces of the pie represent different religions and belief systems, but as long as they are rooted in love, that's all we really need to know.  This from a Catholic nun who dedicated her life to Christianity.  We love you, Kathleen.  You will be missed, and will forever be in our hearts.