Seeking Transparency and Clarity Around Learning
Using learning targets in classrooms is not a new concept.  Teachers have been doing some form of this for years.  When I reflect on my own use of learning targets, it has evolved from:  not using (or identifying) learning targets at all, to posting a page number or topic on the board for students to copy into their daily planners, to writing BTEOTLYWBAT (By the end of this lesson you will be able to…), to writing learning objectives (We will…), to writing learning targets (I can…).  This evolution brought my students (and me!) closer to clarity around intended learning, but I was still missing some critical pieces of using learning targets to empower students to truly take ownership of their learning.
Transparency with students around learning targets and tracking progress toward meeting learning targets is critical to the work we do.  Without a clear target, our students lose sight of the intended learning and are left floundering; they are completing work out of compliance, rather than taking ownership of, and tracking  progress toward their own learning.  Such floundering can lead to both frustration and indifference for our students, which in turn can lead to frustration and indifference for teachers.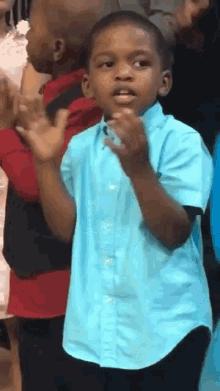 Defining Learning Targets 
Clear learning targets define clear outcomes for both students and teachers.  Teachers must first have a clear understanding of the purpose of the lesson/learning sequence before they can ever attempt to share intended outcomes with students.  This clarity can most effectively be reached with teacher teams working together to first identify those standards which they deem priority ("need to know" versus "nice to know" standards.)  Identifying priority standards is part of a much larger process of schools (and, in turn, teacher teams) functioning as Professional Learning Communities, as described by Solution Tree.  When priority standards are identified, teacher teams are equipped to tackle the process of writing student-friendly learning targets.  These targets are derived from the standard and are written with concrete language that students are able to understand; they begin with the stem, "I can…,"  allowing students to take ownership of their own learning.
The EL Education curriculum identifies "Using Learning Targets" as one of eight high leverage instructional practices, as described in Your Curriculum Companion.  Of all eight high leverage instructional practices,  Your Curriculum Companion highlights the importance of using learning targets by dedicating seven pages to describing the process of using them.  On page 151, readers are reminded, "Learning targets anchor students and teachers in a common understanding of where they are headed with their learning.  When students know where they are headed, they can take more ownership of getting there."
Unpacking Learning Targets
Writing clear learning targets is only the first of many steps in successfully utilizing them.  Learning targets must be posted in the classroom where students can see them; however, simply posting them is not enough.  At the beginning of a lesson, unpacking learning targets "…engages all students in beginning to take aim at the learning target…  This should not take much time, but it is an important opportunity to look carefully with students at the words in the learning target and make sure they know what they actually will be learning (not just what activity they will be 'doing.')," (Your Curriculum Companion, p. 151).  It may not be necessary to unpack every learning target for every lesson.  Some learning targets are more straight-forward than others; some are repeated over the course of several lessons.
Revisiting Learning Targets
As lessons unfold, it is critical that learning targets are revisited throughout the lesson.  This brings students back to the intended learning, again, allowing them to take ownership of their learning.  Many lessons may include more than one learning target, so it may be necessary to check on the progress toward one before moving onto another that is addressed later in the lesson.  It is not enough to simply reread the learning targets; both teacher and students need to see the learning target, reread it (together), and assess progress toward meeting it.  Allowing students to engage in dialogue with peers about their progress is an excellent way to let them process their learning.  In addition, doing a quick-check on their progress (thumbs-up, thumbs-down) holds students accountable for the learning.  Students will truly be empowered to take ownership of their learning if all elements of using learning targets are in place:  unpacking, revisiting learning targets throughout the lesson, and assessing level of attainment at the end of a lesson.  There is not necessarily a secret formula for how this looks:  "…what really matters is that students are crystal clear on their intended learning so they can take ownership of their progress." ( Your Curriculum Companion, p. 152)  Students articulate the power of using learning targets in the following video from EL Education:
Tracking Progress
Student ownership of learning becomes even more solid when we engage students in formally tracking their progress toward meeting learning targets.  It's important to note that this would not occur with every daily learning target, but with those learning targets that directly address priority standards.  This tracking would ideally happen as students complete common formative assessments – those assessments that teacher teams have co-created to assess proficiency of learning attached to priority standards.
ASCD, Association for Supervision and Curriculum Development, illustrates the power of students tracking their progress in this article:  When Students Track Their Progress.  The article includes the following charts as examples of this practice:
Figure 1.12. Student Progress Chart
Figure 1.13. Individual Student's Knowledge Gain Chart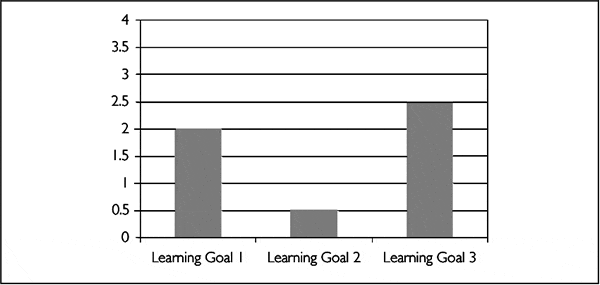 ASCD goes on to explain how important it is to celebrate learning:  "…celebrating success involves recognizing and acknowledging students' knowledge gains."  The EL Education Curriculum further expands on this concept as they design "Celebrations of Learning" at the end of each of four modules per grade level.  From the EL Education website:  "The events compel students to reflect on and articulate what they have learned, how they learned, questions they answered, research they conducted, and areas of strength and struggles. They are powerful opportunities to make learning public."  EL shows how this practice can be taken to the next level in student-led conferences.
A Different Look at Learning Targets
As fate would have it, I am (thankfully!) adding the following to this post, which I have been chipping away at for a few months now.  As I sat down to finalize the post this morning, I first opened an email from George Couros, who is the force behind my blog ever getting started.  Couros writes weekly emails to subscribers interested in reading what he has to say about "Something Personal, Professional, and Profound."  I look forward to each and every one of these emails, and was tickled to find that this week's included a nice shout-out to Yours Truly, regarding an endorsement I had written for George's Creating and Delivering Incredible Presentations for Any Space! course:
"Creating and Delivering Incredible Presentations" has been one of the BEST professional development courses I have ever taken.  In my role as a Literacy Instructional Coach, I am often tasked with preparing and delivering professional development to K-12 staff.  Until I took this course, I have dreaded every PD session our coaching staff has been responsible for.  George is a master at walking his students through the development of a presentation so that nothing is overwhelming.  In addition, the course is self-paced, making it even more manageable.  I just delivered my first PD session after going through this course; the feedback received was amazing!  Several people reported that "this was the best PD session I have attended in a long time!"  This speaks volumes to George's critical message in preparing presentations:  'To make meaningful change, you must make a connection to the heart before you can make a connection to the mind'."
More important than a personal shout-out, was a shout-out to Ken Andrews, a principal in British Columbia, Canada, who wrote about rethinking using learning targets in a December 2016 post (well worth a read!).  In his post, Andrews suggests that by using learning targets, we may be at risk of limiting students' creativity and innovation.  Mr. Andrew's post did not cause me to unravel or rewrite what I had previously written about using learning targets, but it sure did give me pause, and made me carefully examine the practice.  This is what I LOVE about connecting with others:  it challenges thinking and promotes considering all perspectives!  I don't think Mr. Andrews was suggesting that we don't use learning targets, but rather that we are cognizant of the risk to limiting creativity and innovation if we inadvertently use learning targets to limit learning.  Thank you, Ken Andrews, and thank you, George Couros, for sharing your insight!