Fort Madison Community School District is incredibly fortunate to have partnered with Four Oaks, an Iowa organization "…committed to helping children and families through their struggles…"  The support that we receive from Four Oaks includes receiving professional development around trauma-informed care.  We have a group of "trauma champions" that receive more intensive training, sharing our take-aways  with the remainder of staff.  I share this background to give the following a bit more context.  During our weekly team meeting this past week, our Teacher Leadership System coordinator (thank you, Rachella!) placed the following descriptions at the top of our agenda:
Leadership Style: 

Trauma-Informed leaders display authenticity, warmth, and vulnerability. Their communication is clear and consistent. They are aware of how their body language can be interpreted and are mindful of their tone and language. Trauma-Informed leaders greet people with smiles and eye contact. Greeting people with a smile was the most common response used to describe a trauma-informed leader in a survey conducted by Trauma Informed Oregon. (2019/2020)
Professional Poise: 

Trauma-Informed Leaders are not reactive. They are able to bring a sense of calm and clarity to confusion. They check in on staff well-being and use positive, not fear-based methods to motivate others. They ensure policies and practices promote not only physical but also psychological safety for everyone. Trauma-Informed leaders are consistent by being clear about expectations and deadlines and avoiding surprises.
As our team of instructional coaches reflected on the two descriptions, we dipped out of two buckets when discussing what these descriptions mean to us:  1) a "self-reflection" bucket and 2) an "assessment of others" bucket.  In other words, we discussed qualities of Leadership Style and Professional Poise that we possess and that we can improve on; we also discussed our perception of needs for improvement among other leaders in our district.
I have spent considerable time reflecting on these two descriptions and my own take-aways from them.  My take-aways are summarized below.
Leaders are Leaders are Leaders…
Every organization has leaders.  Some of those leaders have titles such as CEO, superintendent, principal, teacher leader, instructional coach, etc.  In the education world, with or without official titles, we are all leaders.  Teachers are leaders in many capacities:  leaders of grade-level or department teams, leaders of new teachers, leaders of committees, leaders of the students they serve.  My point here is that we all have an obligation to live up to the descriptions of Leadership Style and Professional Poise.  We all have an obligation to hold ourselves accountable to the qualities outlined within the two descriptions.  We can expect those qualities in those who lead us, and we can expect those qualities of ourselves, so that those we lead will embody the same qualities.
In addition, the above descriptions begin with "Trauma-Informed Leaders," as a means of looking at leadership through a trauma-informed lens.  I would add that this style of leadership is not unique to, or reserved for, trauma-informed leaders, but leaders of any kind.   Strong leadership, like that described above, is critical no matter the group we serve (those who have experienced trauma, and those fortunate to have never encountered trauma.)
Things I Can Control
I may not agree with all leadership styles, especially those that stray from the qualities described at the top of this post, but guess what?  I cannot control the actions or leadership qualities of others.  I have control over me:  my thoughts, and my reactions.  Period.  I have a decision to make:  I can spend incredible amounts of time and energy being frustrated by the actions of others, or I can spend incredible amounts of time and energy refining my own thoughts and reactions to them.  As Jon Gordon reminds us, "There will always be something to complain about.  But you have a choice.  You can complain about things you can't control or you can control what you can control and let go of what you can't.  You can focus on your problems or focus on getting better.  You can look for an excuse or you can look within and find your best."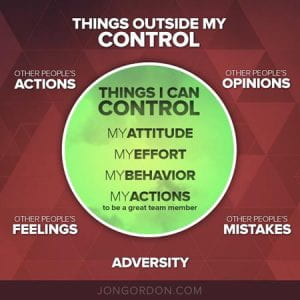 The Stories We Tell
This past week, I've found myself particularly frustrated with a directive that was sent our way, and that I currently completely disagree with.   This directive will have an impact on much of the work I do with teachers and students.  I have two stories I can tell, to myself and to others, regarding the directive:  1)  this is incredibly stupid and makes no sense  or 2)  even though I didn't understand the directive, through patience  and questioning,  I responded, learned, and grew from a challenging time.  George Couros shared the following in a blog post, and I think it applies here:
As I think about the story I want to tell, I am reminded of a post that I wrote in August about Contributing to Culture.  In the post, I posed the question, "What story am I telling to myself and others, and how is that story contributing to our overall culture?"  The culture I want to contribute to and be a part of is one filled with positive energy, one filled with willingness to be vulnerable and make mistakes, and one focused on continual learning.
Lifelong Learning
The idea of continual learning, or lifelong learning, was brought home in an August podcast interview with Pam Kastner, who has an incredible biography and immense knowledge about structured literacy and the science of reading.  In Episode 12 of The Reading League's Teaching Reading & Learning Podcast, Pam tells the Reading League's Laura Stewart, something along the lines of, "If I'm still saying the same thing a year from now that I am saying now, I may not be learning.  As educators, we must always be open to learning."  Forever a learner – I love it, Pam, and I am so thankful for the work that you do!