Our Work with Kim Cano
In our school district's effort to achieve high levels of learning for all students, we have hired Solution Tree associate, Kim Cano, to steer us in the right direction.  The plan is to have Kim work with us for three years, at the end of which will result in a Highly Effective School designation.  There are moments when I have extreme doubts about achieving this goal, but there are equally as many moments when I am firm in my belief that it will happen.
Our district has been affiliated with Solution Tree for 5+ years.  In that time, we have sent all teaching staff, administration, and the school board members to the PLC at Work conference.  It is the strongest and most concentrated effort I have ever been a part of in my 26 years of teaching.  Solution Tree's mission is on point.
When Kim Cano came on board this past summer, she asked us to stay focused on two things:  consistency and relationships.  Our commitment to the PLC process (which is huge) provides compelling evidence around our efforts to maintain consistency.  It is through that consistency that relationships will continue to strengthen.
Speaking of consistency, it was pretty amazing to have the opportunity to sit with Kim Cano as she met with each building's Guiding Coalition members, those staff members tasked with leading the work.  Among the many traits that I admire in Kim Cano, I think the one I admire most is her ability to remain consistent with messaging while assisting each coalition in meeting the individual needs of their building.  It's a miracle to witness.
Behavior Concerns
It was abundantly clear in all meetings that behavior is a consistent concern across the district.  The behavior umbrella can arguably cover many topics, including social emotional learning needs, apathy, and lack of engagement.  I am convinced more than ever that many of those "behavior" concerns can be addressed when teachers adjust their instruction to meet the needs of the learners in front of them (not the ones that they want to have, not the ones that they had 10 years ago, but the ones that they have in their classrooms right now.)  And yes, those learners are very different than the learners of 10, 20, 30 years ago.
When teachers say things like, "I'll work with the kids who want to learn," or "I haven't ever seen behaviors like this," or "This is the worst group of kids I've ever had," or "I've already taught them that, now it's their job," I find myself asking the same question:  "How have you adjusted your instructional approach to meet the needs of the students you currently have?"  Please understand that I am NOT trying to say that meeting our students' needs is easy; in fact it is extremely difficult.  It is made even more difficult when teachers utilize the same instructional approaches they've used with other groups of students without any adjustments, additions, or deletions.  These are different kids with different needs, so why are we using the same approaches and getting angry with the results?
We absolutely need robust systems to address behavior needs.  While those systems are being established, strengthened, or revamped, the individual teacher has control of their instructional approach within their classroom.  There is no better person than Anita Archer to turn to when wondering what those approaches might be.
The "Trifecta" from Reading Horizon's Literacy Talks podcast conducted an interview with Anita Archer recently in Season 2, Episode 7.  The episode is absolutely packed with words of wisdom and is appropriately titled so.  It's well worth several listens!
Archerisms
Anita Archer is well known for her "Archerisms," those golden nuggets of wisdom that so easily guide the difficult work of teaching and make classrooms hum.
When we hear "Archerism's" like:  "Teach the stuff and cut the fluff," we are reminded that we need to be very intentional with our teaching so that high levels of learning can occur.
When we hear "Archerism's" like, "Provide opportunities to respond," we are reminded that everybody does everything and that we need to move away from the traditional practice of raising hands. We know that the content affects the opportunities to respond.  We know that we can eliminate the complaint that "these students are so disengaged" because we have set up the conditions and expectations that ALL students are responsible for the majority of the thinking and questioning.
When we hear "Archerism's" like, "I do it, we do it, you do it," we are reminded that we need to teach the critical content explicitly in an effort to avoid cognitive overload.  We are reminded that we need to teach, practice, practice, practice, reinforce.  We are reminded that critical content includes specific procedures and routines as well as behavior expectations.  And they all need to be taught, practiced, practiced, practiced, and reinforced.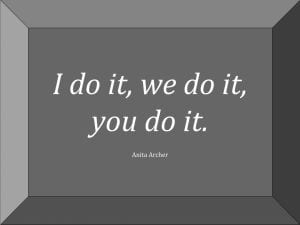 When we hear "Archersim's" like, "If you expect it, precorrect it," we are reminded that we can predict most behavior problems.
When we hear "Archerism's" like, "Avoid the void, for they will fill it," we are reminded that we need to be both very intentional and very flexible in our instructional planning.
When we hear "Archerism's" like, "Children deserve us never giving up,"  we are reminded that ALL children deserve instruction that results in high levels of learning.  We are reminded that we must have tenacity.  We are reminded that the job of teaching is difficult, but well worth the effort.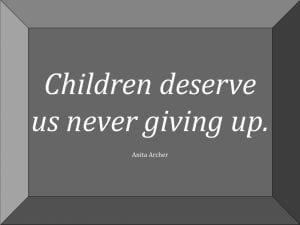 When we hear "Archerism's" like, "You're only as good in your profession as you're willing to get better," we are reminded that we should hold the same high expectations of ourselves that we hold for our students.  We expect our students to work hard and display characteristics of life-long learning; we should do the same.  We know that as we are willing to get better, we will experience discomfort and that discomfort is an indication that we are learning and growing.
When we hear "Archerism's" like, "Teach with passion.  Manage with compassion," we are reminded that relationships are at the heart of our work.  We are reminded that we must be present in our instruction.  We are reminded of George Couros' quote, "If we want to make meaningful change, we have to make a connection to the heart before we can make a connection to the mind."  We are reminded that our students may come to us with traumas and inconsistencies, but as we provide consistency for them, we strengthen our relationships with them making it possible for all to learn at high levels.