The Truth About Reading
The truth about reading is that we have been failing to teach kids how to read for years.  According to The Truth About Reading website, "Illiteracy and sub-literacy in America (and around the world) is a growing issue.  Awareness is important, but so is action."  Action is happening in the state of Iowa!  Last Sunday, over 200 educators and parents came together for a special viewing of the documentary, The Truth About Reading.  The event was made possible because of the organization of a small group of Iowans who worked together to bring the documentary AND two of its featured representatives, David Chalk and Nora Chahbazi to us.  What an event!
There wasn't a dry eye in the audience as we watched the documentary.  We heard heart-breaking stories from adults who did not learn to read in school and the impact it has had on their lives.  We watched action-takers Emily Hanford and Natalie Wexler describe what they have learned about The Truth About Reading, and the actions they continue to take through phenomenal journalism to make a difference.
The truth about reading is this:  "It's not a reading problem.  It's an instruction problem."  Better instruction can only happen when educators are informed and supported with the implementation of methods that are aligned with evidence-based instruction.  Better instruction can only happen when we pair knowledge and support with  high-quality curricula.  Better instruction can only happen when we intentionally plan, implement, reflect on, and revise instruction.
The Truth About Reading event was phenomenal in so many ways.  In addition to inspiration, learning, and a call to action, it was an opportunity to network with other educators across the state of Iowa.  I was beyond thrilled to meet, in person, three people that know what it means to take action… and our secret got out!   Papae Wymore, Stephanie Edgren, Lisa Williams and I are leading the charge to establish an Iowa Chapter of The Reading League.  It is clear that this effort is being met with much support:  after sending out an interest survey earlier this week, we already have 54 people who are interested in being part of the Iowa Reading League.  Are you?
The Truth About Learning
The truth about learning is that it is complex.  The truth about learning is that the quality of teaching has a direct impact on learning  (of course!).  In Visible Learning by John Hattie, we are reminded about the impact of contributions from the teacher.  We are reminded that positive teacher-student relationships have an effect size of 0.72!  (0.4 is considered the "hinge point" of impact on learning.)
We know that systematic and explicit instruction are key to high levels of learning.  In Explicit Instruction, by Anita Archer and Charles A. Hughes, we are reminded that "One of the greatest tools available to us in this pursuit is explicit instruction – instruction that is systematic, direct, engaging, and success oriented."  We know that in order to deliver systematic and explicit instruction, we must be intentional in our planning.
Mme Lockhart, after listening to Angie Hanlin on the Melissa and Lori Love Literacy podcast, created an infographic that reminds us about the importance of repetition when it comes to fluency.  The same principal applies to learning anything:  repetition is critical.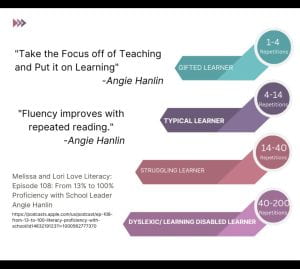 The Truth About Relationships
They are a constant work in progress.  When we are intentional about nurturing them, we create relationships that are healthy.  One of the best ways to establish and foster a relationship is to make the other person feel heard.  Additionally, tossing in a question or a compliment while genuinely listening to the response goes a long way in building connections with others.
It's amazing to see the impact that positive feedback has on teacher-student relationships.  In several coaching cycles, I am sharing data with teachers around the amount of feedback they provide to students.  We are operating from the knowledge that providing specific feedback reinforces expectations.  In addition, we know that positive to corrective feedback ratios enhance those expectations.  For a typical learner (Tier 1), a ratio of 5 positives to 1 corrective feedback is ideal; for a struggling learner (Tier 2), a ratio of 12 positives to 1 corrective feedback is ideal; for a significantly struggling learner (Tier 3), a ratio of 20 positives to 1 corrective feedback is ideal.
The Truth About Energy
The energy we bring to the job has a direct impact on learning.  The energy we bring into any space has a direct impact on the interactions that are held in that space.  As you walk into Fort Madison High School, you are greeted with the following sign, "Please be responsible for the energy you bring into this space."  What a terrific reminder of our personal responsibility for creating the climate we desire!
The Truth About Cancer
It Sucks.
The Truth About My Mom
She is amazing.  Mom has enjoyed a two-month hiatus from cancer medications, as her cancer had nearly been eradicated with a combination of immunotherapy and oral cancer medications.  On Tuesday of this week, she returned to the University of Iowa Hospitals and Clinics to undergo a PET scan which revealed that the cancer is back.  Despite receiving this unwanted news, Mom's resolve to enjoy life is strong.  Her humor remains firmly intact.  She remains the most authentic person I know.  Mom's authenticity is the reason that so many enjoy being with her.  You get what you get with Sue Haeger.  And what you get is a kind, empathetic, genuine, cussing, caring, no-bones-about-it human being.  The women in our family are incredibly lucky to have her as a stellar role model.