In my work as an instructional coach, I have the great fortune of working with many teacher teams across many grade levels.  This allows for a birds-eye view of our district happenings, where I tend to train my eyes on literacy instruction.
A common theme among teacher teams, related to literacy or any other content matter, is that we have to solidify behavior expectations before we can touch academics.  This is a sentiment shared most often at the beginning of the school year, so I've been hearing quite a bit of it in the last four weeks.
I believe whole-heartedly in the the notion that George Couros sums up beautifully: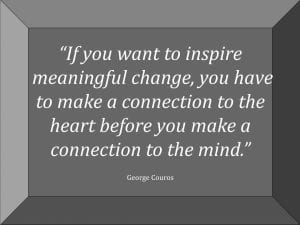 This is true in all relationships, and it is critical in applying to our relationships with students.  My interpretation of George Couros' quote is the following:  if we expect high levels of learning from our students, we must make personal connections with them while we engage them in meaningful academic activities.
The formula for heart connections and academics is rarely a 50/50 venture.  There are times when we will work harder at connecting to students' hearts than to their minds, there are times when we will work harder at pushing academic rigor, and there are times when we are trying to strike a 50/50 balance between the two.  The formula depends on the day, the moment, the students sitting in front of us.
No matter the formula, if we are beginning our school year with a "soft start," engaging our students in activities that are loosely connected or completely disconnected from the academic content for the given grade level, we are not giving them "something to hang their hat on."  We are setting students up for having to rewire their brains for the "real" learning that will occur at some point (when?) down the road.
In a recent Literacy Talks podcast episode (Season 4, Episode 3) from Reading Horizons, the "Trifecta" – Stacy Hurst, Donell Pons, and Lindsay Kemeny – interviewed  Matt Burns, University of Florida professor.  Although the focus of much of the conversation was on reading levels (and evidence against using them as they have traditionally been used), I was especially intrigued by a comment that Matt made about struggling learners.  He mentioned that in one study, he and colleagues found that a group of students who struggled with behavior expectations had virtually zero struggles with behavior while engaged in meaningful literacy activities.  In other words, both their hearts and their minds were being reached because they were experiencing the thrill of the skill.
We simply can't afford to spend time on activities that feel comfortable to us and demand very little of our students as we hide behind the veil of needing to establish relationships first.  This is not an either-or proposition:  either making connections to the heart or expecting high levels of learning.  It is a both-and proposition:  both making connections to the heart and creating the conditions for high levels of learning by engaging in the Science of Teaching.     With week # 5 of the 2023-2024 school year upon us, we are reminded that time is a-tickin'.  The words of Anita Archer ring loud and clear here: