I was thrilled to be joined by eight other educators from Fort Madison Community School District at the Decoding Dyslexia Iowa Conference this past week.  We were treated to a host of sessions that furthered our knowledge around dyslexia and structured literacy.
Our keynote speaker on Thursday morning was Mindy VanZuiden, a reading tutor and stay-at-home mom of a dyslexic son.  Mindy took the audience through the history of dyslexia, what dyslexia looks like today (massive transitions are happening!), and a definition of dyslexia.  Among many gems, the most impactful pieces of Mindy's keynote were the two videos of dyslexic students telling their stories of struggles and triumphs.
A favorite quote from Mindy:
---
I was beyond thrilled to learn from fellow Iowa Reading League co-founder, Stephanie Edgren, Education and Outreach Coordinator with the Iowa Reading Research Center.  Stephanie's session, rooted in neuroscience and titled Understanding the Reading Brain to Optimize Reading Instruction, was phenomenal!  It was because of this presentation that I think I finally understand how "The Reading Brain" works.
I have seen multiple images and explanations, but it was Stephanie's method of having participants draw and label the parts and pathways on "The Reading Brain" that brought it home for me.
In addition, she made connections between The Reading Brain and Seidenberg and McClelland's Four-Part Processing Model for Word Recognition.  Stephanie asked participants to process their learning with frequent "Turn and Talks" throughout the presentation.  Anita Archer would be proud, Stephanie!
A favorite quote from Stephanie:
---
Again, I was beyond thrilled to learn from fellow Iowa Reading League co-founder, Lisa Williams, instructional coach at Southeast Polk Community School District and Adjunct Instructor at Grand View University.  Lisa challenged some thinking around what we know about phonemic awareness based on the December 2022 Fact Sheet from the International Dyslexia Association.
The big challenge, or shift in thinking, from the reading science community, according to this fact sheet (and now frequently referenced on social media) is the recommendation to incorporate letters when working on phoneme awareness.  This is, in fact, a BIG shift!
For some time, the common belief has been that once you incorporate print, it is no longer phonemic awareness instruction.  No longer true.  From the IDA 2022 fact sheet, page 7:  "Given the lack of evidence to support oral-only phonemic awareness manipulation activities and because existing research shows those tasks associated with stronger effects when integrated with print, incorporating letters in phoneme manipulation tasks is recommended to enhance awareness of phonemes in spoken words and to support memory of letter-sound correspondences."
Which is why the following are two favorite quotes from Lisa's presentation: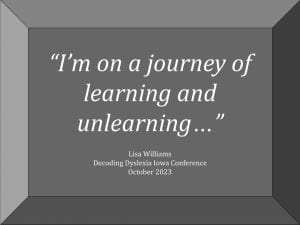 ---
Our keynote speaker on Friday morning was Denise Eide, author of Uncovering the Logic of English.  In addition to the keynote, Denise presented a session titled, Transforming Classroom Practice.  She opened with a nod to Emily Hanford's award-winning, must-listen-to podcast Sold a Story.  Denise reminded us that the podcast ends with a plea to end three cueing.  She goes on to say that we must understand why we cue in order to bring it to an end.
At a very basic level, Denise contends that cueing is likely so common because teachers lack phonics knowledge.  From an educator who thought that she had some substantial phonics knowledge, I couldn't agree more.  I no longer believe that I have substantial phonics knowledge, but boy oh boy, am I going to continue this learning journey to expand that knowledge!
There are many people that I aspire to be; Denise Eide has now been added to that list.  Her depth of knowledge about the English language paired with her insatiable curiosity make her, hands down, one of the most brilliant people that I have had the pleasure of learning from.
I can't even begin to summarize all that I learned from her two sessions, but Eide's website is one that I will be frequenting moving forward.  My first two go-to's from the site will be:
Eide's Call to Action was aimed at the following four groups:
"Teachers – Integrate a more complete set of phonograms sounds and spelling rules into your curriculum.  Teach students to analyze words.
Administrators – Provide teacher with training and tools that empower them with accurate & complete information about how words are decoded and spelled.
Departments of Education – Expand your standards to include a more complete set of phonics concepts.
Publishers & Trainers – Teach a more complete set of rules and publish the rules you are teaching in clearly laid out scope and sequences."
A favorite quote from Denise Eide:
---
Our second keynote speaker on Friday was Dr. Shawn Robinson, author, speaker, and consultant, who went "From Special Ed to Ph.D."  Dr. Robinson spoke with us about the "Transformative Trio:  Empowering through love, time, and education."
His story certainly tore at our heart strings.  Shawn went through the public school system, largely unable to read.  He was diagnosed with dyslexia during his senior year of high school.  With the unwavering support of some critical people, Shawn learned to read, and painstakingly climbed the educational ladder of success, earning his Ph.D.
He and his wife have written three graphic novels, with one more on the way.   Dr. Robinson gives much credit to one "low cost, high impact" book, that is a staple in his life:  the dictionary.
Two favorite quotes from Dr. Robinson:
The Decoding Dyslexia Iowa Conference did not disappoint, and was most certainly a reminder that I have much more to learn… and to unlearn!