On Monday night of this past week, I had the opportunity to present to the FMCSD School Board.  This is a five-minute slot on the board agenda given to our coaching staff each month.  In other words, all eight instructional coaches get the chance to present to the board once throughout the year.  Monday night was my turn.
The week leading up to my 5-minute stint was the week of our spring break.  I had every intention of avoiding school work during most of the break, but instead spent a few hours each day of the break focused on the board presentation and some other school work… and that was OK.  I did get to break away for a sister trip!
During that trip, I had asked my sisters for 5 minutes of their time so that I could run my presentation by them and get some feedback.  My brother-in-law joined the crowd, as well.  After presenting for "5" minutes (more like 10!) and sorting through the round of questions that my audience sent my way, I was back to the drawing board.  I redid the entire presentation.  One revelation that came my way through their line of questioning was that I did not have clarity about the goal of the presentation.  Oh, Clarity – you tricky devil – it appears that you and I will battle all year.
In addition to struggling with keeping the presentation limited to 5 minutes and struggling with gaining clarity over the goal of the presentation, I was also keenly aware that it was quite possible the Board wouldn't be particularly interested in what I had to say.  Not that they are an uncaring group, but Monday's agenda was a loaded one with lots of "big ticket" items to discuss.  I was just a "5" minute blip at the beginning of a much larger agenda.
So what did they hear?
They heard about what their literacy coach does.  It was a bit like "A week in the life of your FMCSD literacy coach," though I didn't use that title.  I opened with a quote, of course… from George Couros, of course!
They saw a handful of the books (there are so many more!) that I rely on to drive change in how we approach literacy instruction.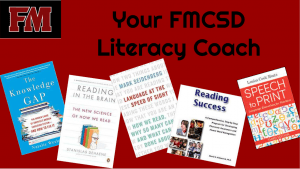 They heard about how part of my job is promoting a love of literacy, which speaks to the art of teaching reading.  One of the ways I get to do this is by visiting all eight of our kindergarten classrooms every two weeks with my sidekick, Bob the Bookworm.  I don my crown, officially becoming the Queen of Books, and share a book that aligns with the current Module of study from the EL Education curriculum.
They heard about how, in addition to focusing on the art of teaching reading, we must also focus on the science of teaching reading.  And this is where we are reminded of our "Change is the opportunity to do something amazing," quote.  As the Science of Reading is finally making its way into American classrooms, we recognize that we are asking teachers to suspend their beliefs about effective reading instruction.  The old way of doing business (leveled reading, working without a high-quality curriculum, teaching in isolation) has been proven to be ineffective.  The Science of Reading is a vast body of knowledge collected over the last 30+ years that has landed on indisputable evidence about how kids learn to read.
The School Board heard that among many other things to know about the Science of Reading, three things stand out:  1) the importance of systematic and explicit phonics instruction  2)  the importance of access to rich literature for ALL students and 3)  the vital role that content knowledge and vocabulary play in effective reading instruction.  They heard a quote from Louisa Moats who reminds us that Teaching Reading is Rocket Science, and from a physicist on the National Reading Panel who reminds us that teaching reading is actually harder than rocket science!
The School Board was reminded, again, that the Science of Reading knowledge base is just now gaining momentum and making its way into our classrooms.  They were reminded that we have adopted the EL Education curriculum, a high-quality curriculum that aligns with the Science of Reading.  They heard that the EL Education curriculum is published and supported by Open Up Resources, where we get support from their amazing Community Coaches:  Justin Endicott, Cassie Leiby, and Esmeralda Rivera.  They heard about the three dimensions of student achievement from the EL Education curriculum:  Mastery of Knowledge and Skills, High-Quality Work, and Character.  They were reminded that the adoption of a high-quality curriculum is not enough to make change happen.  Successful implementation of a high-quality curriculum requires tons of support in the way of patience, professional development, and coaching.
The School Board got a glimpse into three coaching cycles.  They heard that the biggest impact on student learning from the instructional coaching staff occurs when we get into classrooms and work side-by-side with teachers and students.  They learned that a coaching cycle involves a teacher and coach collaborating to plan a sequence of lessons, execute the plan through teaching, and coming together to reflect on the impact of the planning and teaching on student learning.  They heard that the implementation of a high-quality curriculum paired with strong coaching support results in high levels of learning for ALL of our students, which speaks directly to the district's mission, vision, and goals.
They were able to see videos and photos from coaching cycles, as well as photos of the high quality work that our students are producing as a result of the EL Education curriculum.
They heard how proud I am to be an educator in this district for the last 26 years, and that we have much to look forward to as we continue to embrace change.  They were reminded that change doesn't happen overnight, and were asked to please be patient as we wait for the data to catch up with the changes being made.
What They Didn't Hear…
Oh my, there was sooooooooooo much more that I wanted to share.  Again, I knew that this presentation was just a small blip in a much larger agenda.  If they had given me three hours, I would have shared for three hours, and probably wished for more time.  I also wanted to share:
Scarborough's Reading Rope
Nancy Young's Ladder of Reading & Writing
My role during data team meetings:  supporting teachers in understanding the ins-and-outs of the EL Education curriculum
Testimonials from teachers who have been involved in coaching work with me
The hard work that our educators do, day in and day out
The work I'm doing with a 7th grader who came to us in January and cannot read
The agony I am experiencing knowing that there are so many more students who have slipped through the cracks and need additional time and attention
The work I'm doing with our high school special education teachers
The sleep-deprived nights educators experience as they worry about the students in their care
The amount of time I spend thinking about how we can sustain the momentum gained around implementing effective reading instruction
How much more there is to learn!
How thankful I am for my fellow coaches, and how fortunate we are to have a birds-eye view of the district