100%
This post was 100% inspired by the three literacy leaders I affectionately call "The Trifecta,"  Stacy Hurst, Lindsay Kemeny, and Donell Pons, hosts of Reading Horizons' Literacy Talks podcast.  In Episode 6 of Season 3, Reading:  The Numbers Help Tell the Stories, The Trifecta focuses on the irony of how many numbers are involved in the world of reading.  It's a must listen… but then, all Literacy Talks episodes are a must listen!
1 in 5
These are the numbers that represent those affected by dyslexia, according to Sally Shaywitz in Overcoming Dyslexia.  Donell Pons hits on the reality of those numbers:  "That 1 in 5 is somebody's life."  As someone who knows dyslexia intimately, Donell Pons knows how lack of early diagnosis and intervention can affect a person for life.  It is never too late to teach a person to read, but so many unnecessary obstacles can be removed if we step in early.
Regarding dyslexia, Lindsay Kemeny adds,  "If you don't understand dyslexia, you might think, 'Oh this child isn't going to be able to learn to read…'  It's so much easier if we can get them when they're young and start the prevention in kindergarten and intervention in 1st and 2nd.  It's so much easier than trying to remediate those problems when they're older…"  Stacey Hurst adds that one hour of effective evidence-based instruction in the early grades eliminates the four hours needed in older grades to compensate for lack of effective early literacy instruction.
95%
According to Louisa Moats' landmark article, Teaching Reading is Rocket Science:  "Researchers now estimate that 95 percent of all children can be taught to read by the end of first grade…"  The key to reaching this number is early diagnosis of, and intervention for, reading difficulties.  Following evidence-based practice can prevent reading failure in 95% of all children.
1, 2, 3
We know that there are three Tiers of Instruction.  The first tier, the universal tier which every student receives, is critical.  We have to get that first tier right!  And we can't do something entirely different for Tier 2 and Tier 3, which doesn't mean louder and slower, but it does mean with higher frequency and intensity.  Stacy Hurst points out,  "…because it is critical that in Tier 1 instruction that we are doing the best we can, that we're delivering instruction in a way that aligns with the science of learning how to read and teaching reading in a structured literacy manner…"  Lindsay Kemeny adds:  "There is this misconception that those with dyslexia need something different… really we can all benefit from this approach that dyslexics need, which is this structured literacy approach…"
Solution Tree summarizes this idea with the following:
Jason Kennedy frequently drills down on the importance of Tier 1 with Twitter posts like the following:
Want to close gaps?
Fix Tier 1.
Want greater achievement?
Fix Tier 1.
Want fewer misbehavior?
Fix Tier 1.
Want more engagement?
Fix Tier 1.
Want higher teacher morale?
Fix Tier 1.
Want authentic learning?
Fix Tier 1.
Want (FILL IN THE BLANK)?
Fix Tier 1.

Is there a theme here?

— Jason Kennedy | Stop Teaching & Design Learning! (@letsquitteachin) February 7, 2023
26, 44, and 52
There are 26 letters in the English alphabet, represented by uppercase and lowercase symbols, or graphemes.  When learning to read, then, children come to recognize 52 shapes for 26 letter names.   In addition, those 26 letters, singularly or in combination, represent 44 phonemes, or sounds:  the alphabetic principle.  Each letter can spell a sound…or two…or three different sounds, and letter combinations can spell entirely new sounds.  That is a LOT for young readers to master!
This mastery cannot be achieved without systematic and explicit instruction.  According to the National Institute for Literacy, as shared by Reading Rockets, "The hallmark of programs of systematic phonics instruction is the direct teaching of a set of letter-sound relationships in a clearly defined sequence. The set includes the major sound/spelling relationships of both consonants and vowels."
One of the most powerful exercises I experienced to truly understand what it means to match phonemes (sounds) with graphemes (letters) occurred in a LETRS training.  We matched sounds to symbols that were unfamiliar, and then attempted to read sentences constructed with the unfamiliar symbols we were trying to learn.  It was tough!  And it illustrated the importance of a systematic approach to learning those symbols, with explicit instruction about each, coupled with lots and lots of repetition.
200
Speaking of repetitions… they are critical to our most struggling learners.  Up to 200 repetitions, or practices, may be necessary for our most struggling readers to grasp a new concept.  Mme Lockhart captured the words of Angie Hanlin in the following infographic.  I refer to it almost daily.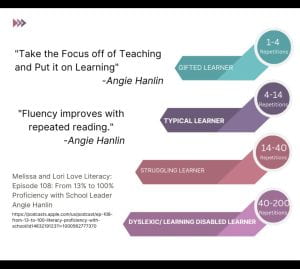 Two, 18 and 15
Effective literacy instruction begins in preschool.  That is not to say that the goal of preschool is to teach children how to read, but rather to build a strong foundation for reading acquisition.  This foundation is built with intentional planning.
For children transitioning from preschool to kindergarten, the best two predictive indicators of their literacy achievement in second and third grade are letter knowledge and phonemic awareness, according to Lucy Hart Paulson and Louisa C. Moats in LETRS for Early Childhood Educators.   Specifically, knowing 18 uppercase names and 15 lowercase names during the preschool to kindergarten transition supports later literacy success.
A heap of gratitude goes to Jennifer Lamm and Brita Oyen, Literacy Consultants for Great Prairie AEA, who have shared this knowledge in a phenomenal LETRS for Early Childhood Educators course.  They have been wonderful to learn from, making the content both engaging and relevant.
More Than One
One person can not make this work happen.  It is not a singular venture.  Strong leaders are absolutely necessary; strong teachers are absolutely necessary, but it takes more than one.  It takes a village.
One
It takes one kind word, note, message, gesture to completely change someone's day, and then some.  It's such a simple thing, and it's only just one!  There is power in sharing one kind word, note, message, or gesture.  Opportunities abound, because there is so much to acknowledge, to celebrate, to be positive about, amidst the many things that are not so positive.  So what do we do?  In the words of George Couros, we have to make the positives so loud that we can't hear the negatives.  In the words of Stacy Hurst, who knows what it means to send a kind message, "….Just know, we know what to do now… This is a hopeful message.  Let's not get discouraged by the numbers…"